Brief Bio
Pastor Jason John Cowart is currently the NextGen pastor at New Covenant Church in Longview, Texas. He is married to an amazing woman, Monique, and has the most wonderful and energetic children in the world, Vivianne and John William, and one more on the way!
A gifted, highly entertaining speaker, Jason is able to engage a variety of audiences, while relaying powerful biblical truths using humor, interesting stories, and relevant visualizations and illustrations.
Jason has been in ministry for nearly 20 years, engaging in worship, children, youth, college, church-planting, and lead pastoral ministry. He received a Bachelor of Science degree in Theology from the International College of Biblical Theology, and a Bachelor of Arts degree in Religion with an emphasis on Pastoral Ministry from East Texas Baptist University. He was ordained in 2004 into ministry.
Extended Bio and Testimony
Jason was saved at 5 years old while sitting at a table at home. Carman, a popular music artist, especially at that time, had a song out that said, "Are you saved?" A group of people would respond, "YEAH!" He knew he wasn't saved and with tears in his eyes, his mother led him to Jesus right then and there. He was baptized at Ebenezer Baptist Church in Jasper, Texas soon after.
Jason graduated from Jasper High School in 1998, and was active in various organizations and sports, from the National Honor Society to student politics, from band where he played trumpet to baseball, where he was a 4-year starter on the varsity baseball team.
In the fall of 1998, Jason enrolled at Lamar University in Beaumont, Texas where he pursued a degree in child psychology and pledged Sigma Nu. During the weeks between the first and second semesters while working a shift at a local lumber store, God spoke very clearly, revealing his plan for Jason's life – that plan being pastoral ministry.
In January of 1999, Jason met and befriended a group of men and women from Triumph Church of Southeast Texas who led a campus ministry called Stand 318. Jason got involved and within a few weeks was one of the 8 leaders of that ministry. At the end of the spring semester, Jason transferred out of Lamar to Triumph Bible College, a branch of the International College of Biblical Theology, pursuing a bachelor's degree in theology.
While attending TBI, Jason became very involved with Triumph Church in a variety of ministries, including Destined for Deliverance, a dramatic musical production that traveled the continental United States. During this time, he met Pastor Gary Marshall, who would become the pastor of Harvest Church of Southeast Texas, a church in Jasper, Texas that was begun by Jason's parents, Marvin and Gwen Cowart, along with three other couples in 1998. With this connection, Jason's work with Harvest Church would begin.
Jason moved back to Jasper to work with Harvest Church, commuting to Beaumont to finish school, which he did in 2002. By that time, Jason was heavily involved in leading worship on Sunday mornings at Harvest Church, leading youth worship on Wednesdays, and working at the church as a pastoral assistant.
During 2002, Jason started a band and recorded a 4-track demo. At the beginning of 2003, Jason moved to Nashville, Tn to try his hand in the music business. He landed a job at a business called The Foundation in Franklin, Tn, a unique production company in the Christian music industry, working with a variety of artists from Plus One to Peter Furler, and a variety of up and comings. After a few months there, Jason landed a showcase and on June 6, 2003, played for a packed house of A&R reps and producers. A Colorado-based label was interested in pursuing a deal, however, when Jason took the first step off stage, he heard God very clearly – as clearly as on that day in a hardware store in Beaumont: "Go back to Jasper and minister to students."
Little did he know, the youth pastor at Harvest Church had recently resigned, so by the fall of 2003, Jason was back in Jasper serving part time as the youth pastor at Harvest Church. That next year, 2004, was unbelievable. Elevate Youth Church, which is what the youth was called, had 74 first-time salvations, not including rededications and other commitments to Christ. The youth ministry went from 15 to over 150 in a matter of 8 months. The success was truly amazing.
With an explosion in numbers like that, Jason quickly realized he was not prepared to administrate that large of a group. While TBI taught preaching and doctrine beautifully, a lack was in administration. So, in the spring of 2005, Jason decided to resign his post and enroll at East Texas Baptist University to learn the admin side, joking, "Who better but from a Baptist to learn administration? They're amazing at it!"
The fall semester was his first at ETBU in the religion department. Not only was it a great learning environment, he had the opportunity to serve two different churches over the next three years as a youth pastor, and in the spring of 2006, he met the wonderful woman, Monique, who would become his wife that next summer on June 30, 2007.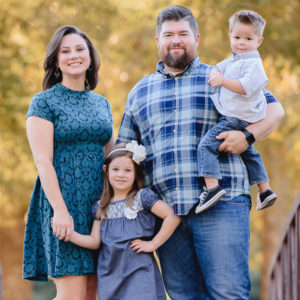 Monique is also a graduate of ETBU, magna cum laude, in fact, with a Bachelor of Science degree in Biology, and minors in Chemistry and Religion. She's really smart. 🙂
Jason survived Greek and hermeneutics classes and graduated in 2008 with a Bachelor of Arts in Religion with an emphasis on Pastoral Ministry. A month after graduation, Jason began working at ETBU as the graphic designer, a skill learned during the years working at Triumph and Harvest Church.
In the Fall of 2010, Jason launched a church plant called Oxygen in Marshall, Texas, which was a church designed to reach 18-30 year olds, often called the Millennial Generation. The ministry grew to around 70 before closing the doors a year later. A lot of things were learned from that experience, some good, some bad. Church planting is still very close to his heart.
In the fall of 2011, Jason and Monique welcomed the most beautiful little girl in the world, Vivianne Kinsey.  A few months later in the spring of 2012, they began attending services at New Covenant Church in Longview, Texas. There are times when you know that you are home, and for the Cowart family, it was when they walked into NCC. Over the course of the next few months, a great relationship between the Cowart's and the leadership was struck and in November of 2012, Jason left ETBU after nearly 5 years and accepted the position of youth pastor at NCC.
Since November of 2012, the youth ministry has had a number of successes, including exponential growth and a depth in the quality of relationship students are experiencing with God. In 2015, he began overseeing Covenant 56, the fifth and sixth grade ministry, utilizing his youth leadership team to bridge the gap between children's ministry and youth. After seeing a huge increase in the number of 18-30 years olds attending youth services each week over the last year and a half, Jason, along with two young men in leadership at NCC launched a life group for young adults, which is experiencing incredible impact and growth. As NextGen pastor, Jason oversees a group of people from age 10 to 30.
Jason, Monique, and Vivianne were happy to welcome John William into the world on August 15, 2014, and in May, they found out a new little one is on the way, due February 2018!
Jason is dedicated to doing everything he can to honor God, preach the Gospel, and point people to Jesus. He loves the emerging generation and is dedicated to seeing them experience their highest potential in Christ Jesus.
---
Friend, like, and follow Jason on social media: